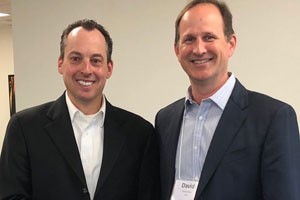 It all began with two lifelong friends – both serial entrepreneurs since they were teenagers.
David Hickey, CEO, remembers his early years working with Mark Jones, co-founder of enSYNC. "We had a ton of fun as teenagers starting our own company (landscape management). We had so much fun founding that first company together, that we hoped we would have just as much fun founding another company together as when we were teenagers."
They went their separate ways after college, but always kept in touch. David was a landscape architect, restoring estate gardens and a fascinating pre-WWII garden. He was also a member of a number of professional architecture societies. Mark was working for an IBM business partner that serviced nonprofit clients. They had been talking for years about starting another business together and in 1996, enSYNC was born.
Filling a Need
Mark loved his customers, but felt his employer's focus wasn't on the nonprofit space or the customers they served. "Because of my personal beliefs in superior customer service," he explained, "I saw an opportunity to start a business and focus on the customer."
"The nonprofits are focused on serving their members and their mission-based values.

I knew I could provide that market with truly exceptional customer service

and lead technology initiatives with the same values and passion

with which they serve their members."
David brought his experience as a member of organizations and their continuing education and certification requirements. But the more David met with clients, "The more I fell in love with it. I got the chance to talk to great people, in great industries, who were mission-based and mission-focused. I'm still loving it."
Now, 24 years later, enSYNC has become the premier provider of innovative custom software solutions for nonprofits and associations to make their mission itself profitable through technology that supports and sustains, and keeps your members in SYNC.