The headache of most associations - dues collection. Despite deploying reminder email after reminder email, members aren't in a rush to login to a website and submit payment. Why? Because it isn't convenient.
This form of paying requires members to dedicate more interrupted time tending to the process. Even if they're one of the few actually opening these reminders, the task doesn't stay top-of-mind for long. So much leniency is given because of this, making the collection process span for months. But what if you could minimize a normally 90-day process into just 30, making it easier on both your association and its members? We promise, it's possible.
Webinar on mobile technology
Most likely you've used Venmo, Google Wallet, Paypal or Apple Pay. So have your members. The convenience of these mobile tools directly correlates with positive consumer experiences and buying decisions. They influence quick action and minimized contemplation.
Making your membership mobile accessible
Your association can offer its members this same experience. This is accomplished by taking your membership and making it fully accessible through mobile, and more specifically, a native mobile app. When you go with native, a new revenue generator is born.
Your members already have relevant mobile habits. Phone usage is incorporated into almost every aspect of their day. When they can pay their membership dues through an app, the once lengthy process becomes easy and less disruptive.
Instead of having to login to a website or online portal every time it's visited, the app remembers them. Their account is always logged in and available.
Instead of relying on emails as reminders, there's now push notifications that appear right on your members' phone screens that take them directly where to pay in the app (eliminating any need for search). Payment information is stored or pulled from their phone (I.e. Apple Pay) to simplify renewals. Previous excuses for late or no payment begin to diminish and become obsolete as convenience largely comes into play.
Visualize the impact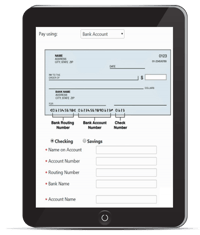 Here's an example to better visualize the impact of mobile payment. Think about major restaurant chains Starbucks, Chipotle and Dominos. All utilize mobile and utilize it well.
The apps of these businesses introduced on-demand ordering access to consumers, fully transforming each brand. Over time mobile ordering has proven to be incredibly powerful. That again comes down to the convenience factor. App users are avoiding long lines, annoying websites and (most important to Millennials) having to call to place orders. The apps sitting on their phones serve as daily reminders of this ability to get what they need simple and quick.
Not only does this affect a major increase in revenue, but an increase in retention. A member gains so much more value from their association when presented with a dedicated app. It opens the doors to the kind of involvement and connectivity they were previously lacking in the membership they were paying for. Paying dues becomes a click of a button on an app they're now engaging with constantly. With more value comes an easier decision to continue on in the membership year after year.
enSYNC is proud to partner with Clowder on mobile technologies. Learn more at clowderapp.com/ensync.