To prepare for your texting program, here are some tips to get started:

1. Prepare your member profile
Enable the "Communications Tab" on your Member profile.
ensure that you have a button clearly indicating an opt-in preference for texts

ensure that they know where to put their cell phone number
2. Prepare your website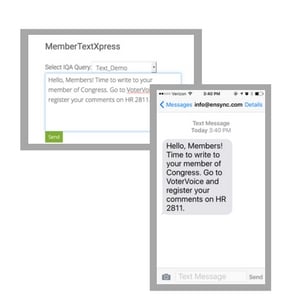 Prepare an opt-in page on your website or via email so that directions are clearly spelled out for participation in the program. Please make sure you include:
a specific opt-in process

how many texts they can expect

what kinds of text messages they can expect

instructions for opting out of the service should they decide to do so

this message: "message and data rates may apply"
3. Prepare your member application
Prepare your member application in the same way so that you can collect this information at the time of join. You must have a specific written confirmation that the member is opting in to texting.
Sample Text for an Opt-In page
Use this for ideas on what to put on your opt-in page.
---
We want to communicate with you fast, whenever we have important news to share. We are beginning a texting program to send you messages about important Association news.
Would you like to opt-in to this service so that you can receive fast and action-oriented information from the Association?
Please note the following:
we will send you no more than 4 texts per month
standard message and data rates may apply
you can return to this page at any time and opt-out of receiving these messages
you can call our office at xxx-xxx-xxxx to receive help or have your questions answered at any time about this program
our texting program is one-way only, meaning you cannot respond to a message and get a return answer
The types of messages we may be sending through this service include:
calls to action on advocacy efforts
registration reminders
calls for volunteers
cancellations or changes
last minute reminders
dues renewal
directions
announcements
We invite you to participate in our texting service by clicking the button below, signing in to your member record, and choose "I am opting in to text service." Please be sure to check your cell phone number to ensure its accuracy.