This spring, enSYNC Corporation embarked on a study to find out how associations and nonprofits were using recurring dues and installment plans to collect dues and donations from their members. Today that study is published and it shows that a fair number of organizations are adopting perpetual payment models to engage their members and improve retention.

How do Associations and Nonprofits use payment methods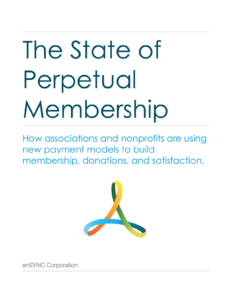 We reached out to nonprofit organizations and associations of all types, from state and national groups, trade and individual associations, to member–based and donor–based.
Our findings on recurring payments
What we found is that approximately 26% are offering a program of recurring payments, allowing their members to keep a credit card or banking information on file and then automatically renewing their payments on a recurring basis.
Slightly more organizations provide installment plan options for dues and donations; nearly half of the organizations indicated that they did.
Additional features
In addition to finding out how many organizations were currently offering these payment options, we also asked about their perceptions as to whether these options were providing advantages and value to members or to the association. That information is detailed in report, along with respondents' perceptions on how managing these programs affect staff efficiency.
Concerns
Concerns are often raised about an association's ability to maintain and manage a member's credit card or keep track of banking information. Respondents indicated that only about 12% of their members needed to be contacted after each billing cycle in order to make the necessary financial updates.
Perpetual payment model
Many associations are turning to the concept of a perpetual payment model for dues and donations, as it continues to be adopted so frequently in the for-profit world. Individuals are more likely today to allow their encrypted credit card to be kept on file in order to maintain continued affiliation with an organization. According to responses in the study, renewal rates are favorably impacted as a result of using recurring billing and installment plans.
While recurring billing and installment plans each on their own can be considered a kind of perpetual membership, a truly well-developed perpetual payment model combines the benefits of both. Recurring billing (allowing members to pay with a credit card on file) and installment plans (taking a small portion of the dues amount and spreading it out over the year) are a great 1 - 2 punch.
Copies of the report are available for free and may be downloaded for immediate access.