If you think you know the iMIS Association Management System, think again.
This is Not Your Daddy's iMIS
If you've been familiar with past iterations of iMIS, it's time you took another look. You may think you know the iMIS Association Management System's capabilities, but think again. What you have experienced with the iMIS of the past has all changed, just as dads have changed and evolved over the years.
Good Old Dad.
The fathers of yesteryear are thought of as trustworthy. Dependable. Always there for you. Always doing what needs to be done. Good Old Dad never lets you down.
That's just like iMIS. iMIS has been the go-to engagement management system software for years. It's trustworthy and reliable. And none of that has changed, except iMIS is now just like…:
Fun New Dad!
Fun New Dad has all the dependability of the archetypal dads of the old days, only now "New Dad" is contemporary and competent too. He is able and action-oriented. He does "Dad" even better; he's Dad to the 20th power.
And just like Fun New Dad, iMIS 20 does "iMIS" even better. It's graphical. User-defined. Fun and easy to use. Cost-effective and cloud-based for ease of use and accessibility. There are continuous improvements that bring more new tools to market, and your organization, even faster; it's iMIS to the 20th power.
So we ask again: have you looked at iMIS lately?
iMIS 20 is not the rigid, old association management software you may remember. The functionality, the built-in tools, and the user interface are better than ever in iMIS 20, making it much more user-friendly, and much more useful to your needs in the not-for-profit world.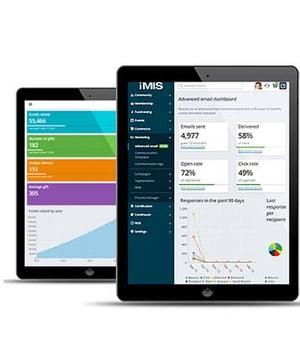 Why use sales and CRM platforms that have been designed for for-profit companies, and repurposed after-the-fact for your association? iMIS puts the nonprofit perspective first. It's a tailored content management system (CMS) with impressive member and donor tracking capabilities.
Even the convenience of the cloud is now at your fingertips: the new iMIS is cloud-based, so you can access it from any device, at any time. Member self-service, mobile options, automation, dashboards, and engagement tracking are all part of the deal. It's easier than ever to register for events and collect payments.
There are 25 years of nonprofit heart and soul in this product, and your organization can benefit from the upgrades to the new iMIS Version 20 association management software. It's the engagement management system solution you've been needing, that exists in the format you already know, trust, and love.