Avant-Garde and enSYNC Corporation Transition FAQs
If you're reading this, welcome! We are so happy to have you as part of our wonderful community of associations and nonprofits. You likely have some big questions about our next steps as part of the acquisition of Avant-Garde's iMIS practice — and we're glad to answer them.
If you find that you have any questions not covered in this list, please email our Director of Client Success Chadd Arthur. As time passes, we may add additional questions to this list.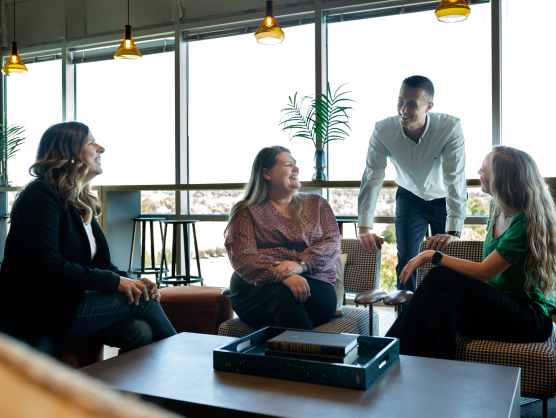 When does this transition happen?
Avant-Garde and enSYNC's Dedicated Transition Team will work through April 2022 on the transition tasks and the shift, knowledge transfer and Avant-Garde team will be joined with enSYNC's by May 10th, 2022.
What is the Dedicated Transition Team?
To ensure a streamlined transfer of operations, we assembled employees of both enSYNC and Avant-Garde to work together to make the transition seamless and effortless.
What can I expect from the Dedicated Transition Team in the next few weeks and months?
Our DTT has been preparing for this transition to help make this change seamless and effortless for your organization. This is what you can expect in the coming weeks:
Katie Avant will reach out to your leadership/primary contact personally to notify you of the transition.
Chadd Arthur will schedule an onsite (or Zoom if preferred) introduction visit.
Janet Davidson will send an enSYNC Welcome Package with additional information and transition enablement items.
Lan Mai will reach out to schedule an introduction call to review our support portal and transition your team to enSYNC support.
Warren Duncan will reach out to review any prepaid balances or additional accounting needs.
Shanti Pampana will be the first line of support for any urgent requests you may have.
Who are the members of the Dedicated Transition team?
The members of the Dedicated Transition Team are:
Katie Avant
President, A-GS
225-953-7402
Janet Davidson
Vice President
817-349-7074
Chadd Arthur, MBA
Director of Client Success
817-349-7053
Amanda Feil, CAE
Director of Consulting
817-349-7073
Lan Mai, CISA
Support Manager
817-349-7080
Laurie Hill
Consulting and Billing
817-349-7068
Warren Duncan
Senior Financial Analyst
817-349-7052
Shanti Pampana
Business Systems Analyst
817-349-7065
Do I need to do anything with ASI because of this transition?
Though ASI has been notified of the transition, it may speed up their internal processes and prevent an interruption of service if you send the following email to Rob Druhot, ASI's Global Director of Implementation & Support Services (who also has been informed) at rdruhot@advsol.com:
Dear Rob,
Please accept this notification of a change in AiSP for (organization name) from Avant-Garde to enSYNC effective immediately. Thank you in advance for your cooperation for a smooth transition for our staff and the team at enSYNC.
How do I request iMIS customer support?
You can receive support in a number of ways at enSYNC. You can:
Email

help@ensync-corp.com

to open a support ticket
Call 817-349-7070 and speak with our Support team Lan or Laurie to submit your support ticket over the phone
Submit your support request online through our

customer portal
Request a login for the portal by emailing help@ensync-corp.com
What's the turnaround time for customer support requests?
Our automated support portal will provide an immediate acknowledgment, and typical requests are responded to within 2 hours. Emergency requests will be attended to immediately.
Does enSYNC offer Annual Support Plans?
Yes, enSYNC offers three levels of support plans as well as ad-hoc support coverage. enSYNC will work with you to find a support plan that meets your needs, supports your mission's initiatives, and aligns with your technology/staff development budget.
What happens if I have a prepaid balance with Avant-Garde?
Any prepaid balances will port from Avant-Garde's accounting to enSYNC's accounting and will be available for clients on May 10th, 2022.
What happens if I'm in the middle of a project with Avant-Garde?
Avant-Garde is working diligently to complete all projects prior to May 10th, 2022. However, if projects run over it will be completed by the Avant-Garde team with enSYNC's support. Our Dedicated Transition Team will work with you directly to ensure that timelines are met.
Who is enSYNC?
enSYNC is a long-time respected Authorized Solution Provider for iMIS and ASI. enSYNC has worked closely with Avant-Garde the last 15 years to support the iMIS community through thought leadership, best practices, and association/nonprofit expertise. This transition will bring Warren Duncan and Shanti Pampana as well, so the enSYNC team will grow to provide the continuity of care that your organization deserves. enSYNC is a long-standing customer support award-winning consulting firm.
What other software solutions is enSYNC a partner of?
What team members from Avant-Garde are joining enSYNC?
Warren Duncan and Shanti Pampana will be joining enSYNC. Warren will be in the role related to financial services and Shanti related to iMIS development.